Therefore take up the whole armour of God, that you may be able to withstand in the evil day, and having done all, to stand firm. Stand therefore, having fastened on the belt of truth, and having put on the breastplate of righteousness.

Ephesians 6:13-14
Introduction
Most of the Trinity Church family will not be in the worship venue this Sunday, and for the rest of March, if not longer. Many have indicated they will be taking Sunday morning(s) to worship as a family or simply alone. That will be something new for many with opportunities to experiment and innovate.
There have been several requests for live streaming. There are a number of technical requirements necessary for this, the main limitation being an adequate (high speed) Internet link. The sermon will be recorded and posted as is standard. The church website also has several years of adult sermons to consider for choice. Then there is the Internet with its weird to wonderful selection of online resources.
What I would like to do here is offer some resources for your worship on Sunday 15th the 3rd Sunday of Lent.
Offering at home
Finally, continuing in the 'at home' theme, if you usually make an offering during the physical service you are able to do so online as well. Trinity has an online donation/offerings option on the website.
If you wish to make an offering please select an amount below and click the 'Submit offering' button. You will be automatically transferred to our secure online processor. You can use iDEAL or a range of other options.
Amounts display as European numbering using a comma as the decimal point.
---
Readings
The lectionary readings are readily available at https://lectionary.library.vanderbilt.edu/texts.php?id=26
In my first view of these readings I note the following:
Exodus 17:1-7 The Book of Exodus is a hall of mirrors for God's People. When we go down it we can see ourselves in the people of Israel making hard work of life with Moses as he takes them from being slaves in Egypt to being ready to settle in the promised land of Canaan. In this episode, the People and Moses run into a public health, or a life and death issue: There is no water for human or beast! That's the obvious crisis but what it leads to is exposure of the relational confusion and tensions showing how hard it was for Moses to represent the LORD to the People and the People to the LORD.
Question:
Do you recognise yourself in any of this?
Romans 5:1-11 is where Paul begins to celebrate the assurance of salvation. Assurance is there even though sufferings may continue.
Questions:
Is that assurance of peace with God and the experience of God's love poured into hearts real to you?
Has suffering drawn endurance, character and hope?
Can you trace a shift from being an enemy of God to being reconciled?
How would you write about your experience of salvation and how confident is it? If this assurance is not real to you, you may ask for it. It's a gift.
John 4:5-42 What a story! This is the only place where Jesus directly says who he is — to an unnamed Samaritan Woman. What you might think about here is how this woman is both fascinated by Jesus and guarded from him. At one level it is again a story about water but the pragmatics become a portal to deeper issues.
Questions:
Did Jesus ever get his drink of water?
What did his simple request for water lead to?
This story is set at a very specific place. This is what it looks like today in the crypt/basement of a church built over Jacob's well. I can vouch that the water is good to drink!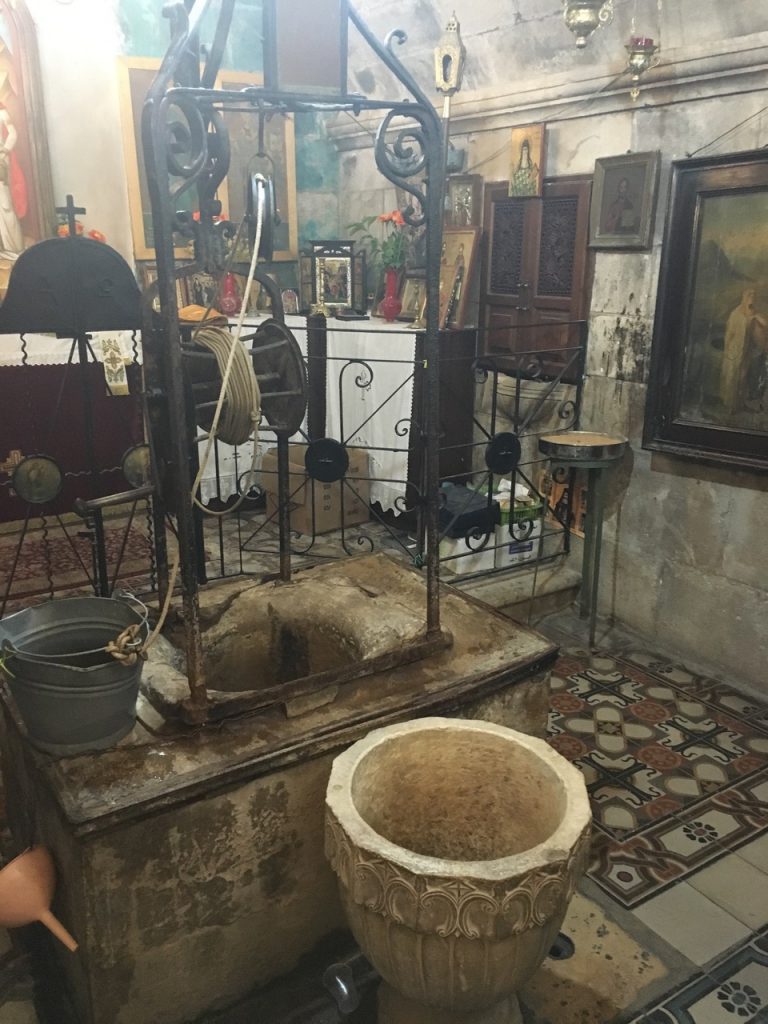 The well is very deep. When measured in 1935 it was 41 meters deep! Still curious? Watch this 5 minute video:
---
Prayer Resources
See attached PDF prepared for Sunday 15 March.
---
Three songs set for Sunday (singable at home)
Songs below with verses underneath the videos
Before The Throne of God Above
As The Deer
The Lord's My Shepherd
Before The Throne of God Above
Before the throne of God above
I have a strong and perfect plea,
a great High Priest whose name is Love,
who ever lives and pleads for me.
My name is graven on His hands,
my name is written on His heart;
I know that while in heav'n He stands,
no tongue can bid me thence depart,
no tongue can bid me thence depart.
When Satan tempts me to despair,
and tells me of the guilt within,
upward I look and see Him there,
who made an end to all my sin.
Because the sinless Saviour died
my sinful soul is counted free,
for God the Just is satisfied
to look on Him and pardon me,
to look on Him and pardon me.
Behold Him, there the risen Lamb,
my perfect spotless righteousness,
the great unchangeable "I Am",
the King of glory and of grace.
One with Himself I cannot die,
my soul is purchased with His blood;
My life is hid with Christ on high,
with Christ my Saviour and my God,
with Christ my Saviour and my God.
As The Deer
As the deer pants for the water,
so my soul longs after You.
You alone are my heart's desire
and I long to worship You.
You alone are my strength, my shield,
to You alone may my spirit yield.
You alone are my heart's desire
and I long to worship You.
You're my Friend and You are my Brother,
even though You are a King.
I love You more than any other,
so much more than anything.
You alone are my strength, my shield,
to You alone may my spirit yield.
You alone are my heart's desire
and I long to worship You.
I want You more than gold or silver,
only You can satisfy.
You alone are the real joy-giver
and the apple of my eye.
You alone are my strength, my shield,
to You alone may my spirit yield.
You alone are my heart's desire
and I long to worship You.
The Lord's My Shepherd
The Lord's my Shepherd, I'll not want.
He makes me lie in pastures green.
He leads me by the still, still waters,
His goodness restores my soul.
Chorus
And I will trust in You alone,
and I will trust in You alone;
for Your endless mercy follows me,
Your goodness will lead me home.
He guides my ways in righteousness,
and He anoints my head with oil;
and my cup, it overflows with joy,
I feast on His pure delights.
Chorus
And though I walk the darkest path,
I will not fear the evil one;
for You are with me, and Your rod and staff
are the comfort I need to know.
Chorus