In what has become a Trinity Church tradition (this being the sixth year), in the last week of the summer school vacation, the entire church gets transformed into a setting in which children from the ages 2 to 11 years old come to have fun whilst learning more about God and the Bible.
This year Pyramid Rock is our five day holiday club that focused on the story, character and experiences of Joseph. It was packed with creative teaching, games, songs, prayer, craft, Bible reading and small group ideas, along with a drama script for each day.
Pyramid Rock is set in "Ancient Egypt". Our church was transformed into a multicoloured desert paradise, complete with sand, pyramids, camels, and palm trees. Right at the entrance of the church, the children walked through a bedouin tent and were transported to Egypt, in the time of Joseph.
The day started off with some dance exercise.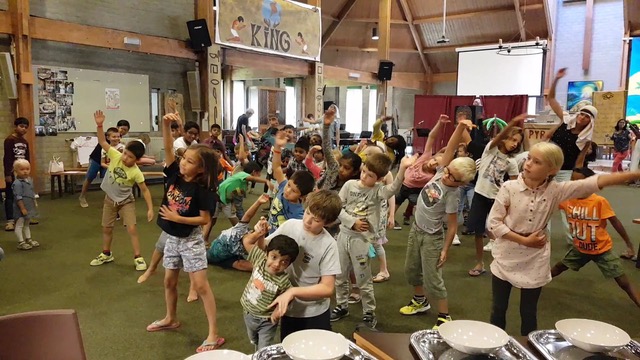 And then fun and games.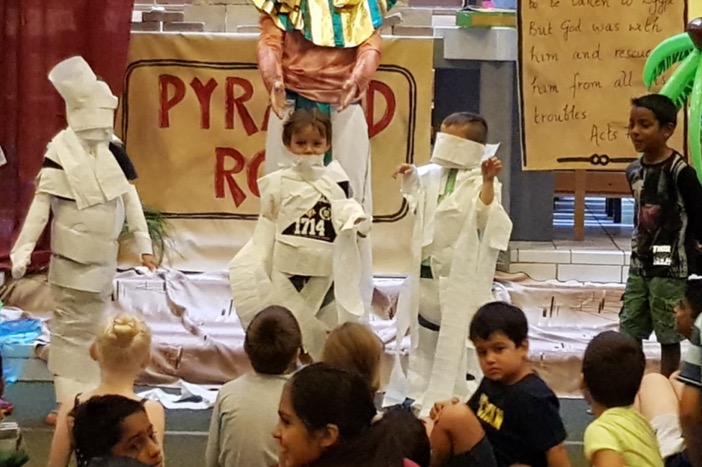 Of course there was worship, not only with our voices but with our hands and feet!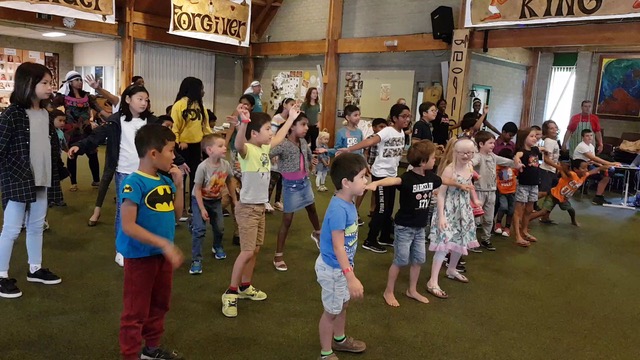 Bible stories were told each day by different personalities from the Bible with a focus on a key word each day : Planner ,Helper, Provider, Forgiver, and King.
Planner: God had a plan for Joseph and his brothers, just as he has a plan for us.
Helper: God is our Helper-he is always with us and gives us strength and wisdom.
Provider: God provides for His people.
Forgiver: God loves to forgive! Joseph was like His God , and showed forgiveness to those who had hurt him.
King: God is in control of the nations. He is powerful and good.
Our main memory verse was taken from Acts 7:9-10.
Joseph's brothers were jealous of him and sold him as a slave to be taken to Egypt. But God was with him and rescued him from all his troubles.
Points could be earned for the respective girls and boys teams if they could recite the memory verse by heart.
After each story-telling time, we went off into our own groups and had a time of discussion and craft-making.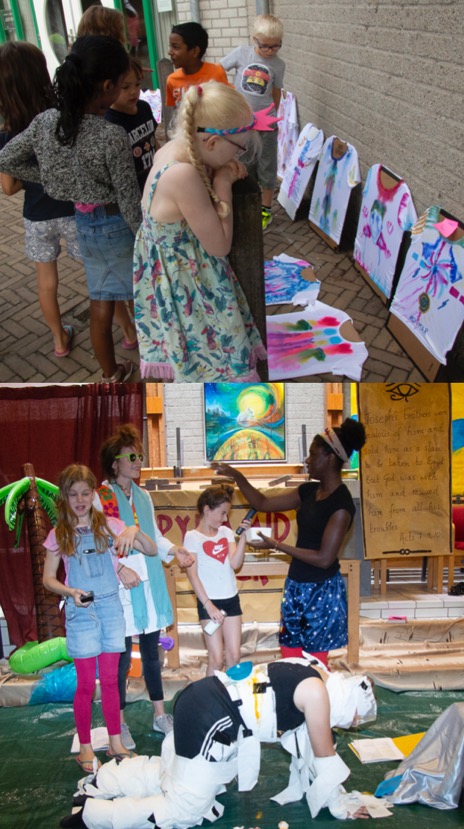 Then it was time for the daily skit put up by the youths.
Last but not least, we made time between all the activities to quieten our hearts to pray.
The Holiday Bible Club (HBC) is an event that our kids look forward to every summer. It is also a outreach event which draws children (and their parents) outside our church to come experience our Trinity Church. Not only is this a ministry to and for our kids, it is also a ministry to and for our youth, a time when our youth come together for five days to work and have fun together. Of course, not to forget that it takes almost a legion of adult volunteers months of preparations to make it all come together. Indeed, HBC is a church event that all in church can be involved with. Come join us for fellowship, fun, and outreach in the  summer of  2019!
Report contributed by Hsiang Ling and Manju.